GRINDAY DREAM UP - GOOD SLEEP*
Discover the power of premium ingredients that support natural sleep and help you fall asleep peacefully, so you wake up with energy every morning.

Grinday Dream Up - Good Sleep* - dietary supplement - 60 capsules.


| | |
| --- | --- |
| | Helps to calm and promote peaceful sleep with the inclusion of passionflower. |
| | Supports maintaining natural sleep with the inclusion of valerian root and lemon balm. |
| | Aids in reducing the time taken to fall asleep with the inclusion of melatonin. |
| | Patented herbal blend, Calmomix®. |
| | Pure, vegan formula, free from artificial colors and fillers. |
---
Grinday Dream Up. We care about the composition.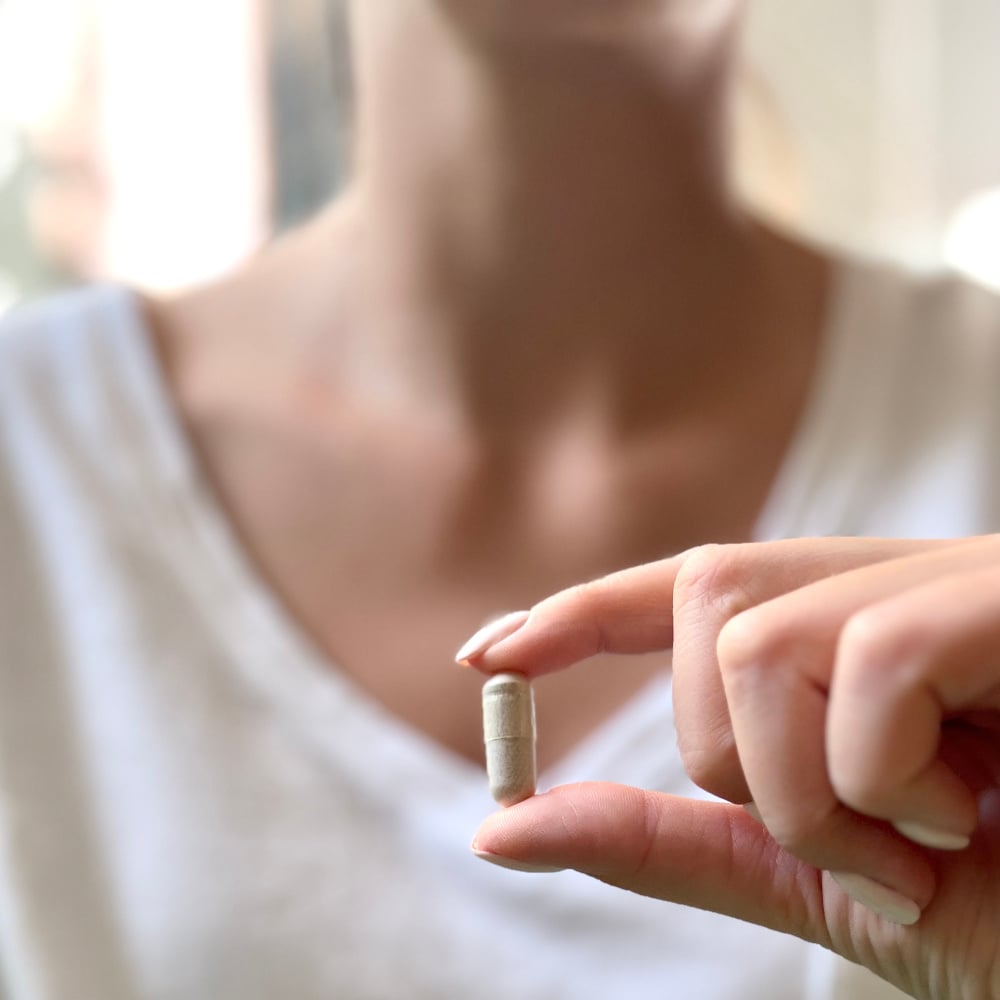 PREMIUM INGREDIENTS

Certified active ingredient Calmomix®, for which the manufacturer has conducted additional clinical studies and obtained relevant quality certificates.
STANDARDIZATION

Standardized plant extracts guarantee the percentage content of the active substance affecting the body and its quality.
PURE FORMULA

A pure, transparent composition in a vegan formula without fillers, without anti-caking agents, without dyes.
SYNERGY EFFECT

We care about the composition, therefore, we pay special attention to the proper selection of mutually complementary and interacting active ingredients with high bioavailability.
---
Effect of Grinday Dream Up supplement on the body:
*Melatonin helps reduce the time taken to fall asleep.
  Magnesium contributes to the reduction of tiredness and fatigue.
  Vitamin B6 supports the normal functioning of the nervous system.
*Valerian root helps maintain natural sleep and normal sleep quality.
*Lemon balm contributes to better sleep.
*Passionflower helps calm and promotes peaceful sleep.
  Hops have a calming effect on the nervous system.
---
Active ingredient in the recommended daily dose (2 capsules per day):
Calmomix® - standardized blend of extracts, including: 500 mg
Valerian root extract [0.8% valerenic acid] 250 mg
Lemon balm leaf extract [5% rosmarinic acid] 100 mg
Passionflower herb extract [2% vitexin] 100 mg
Hops cone extract 50 mg
Gamma-Aminobutyric acid (GABA) 200 mg
Melatonin 1 mg
Vitamin B6 1.4 mg (100% NRV*)
Magnesium 75 mg (20% NRV*)


*NRV: Nutrient Reference Values for adults
---
Ingredients:
Magnesium salts of citric acid; valerian root extract (Valeriana officinalis) [0.8% valerenic acid]; glazing agent: hydroxypropyl methylcellulose; gamma-aminobutyric acid; lemon balm leaf extract (Melissa officinalis) [5% rosmarinic acid]; passionflower herb extract (Passiflora incarnata) [2% vitexin]; acacia fiber; hops cone extract (Humulus lupulus); pyridoxine hydrochloride (vitamin B6); melatonin.

Calmomix® is a registered trademark of Greenvit Sp. z o.o.
---
Recommended daily dose necessary to obtain the desired effect:
The recommended daily dose is 2 capsules per day, preferably 30 minutes before sleep. The dietary supplement should be consumed with approximately 200 ml of water.
---
Storage conditions:
Store in a dry place at room temperature in a tightly closed container. Keep out of reach of children.
---
Warnings:
Do not exceed the recommended daily dose. The dietary supplement is not intended for children, pregnant or breastfeeding women. The dietary supplement should not be consumed when using medications with sedative, sleep-inducing, anxiolytic, or antiepileptic effects. Alcohol should not be consumed during the period of using the dietary supplement. After consumption, do not drive or operate machinery. Dietary supplements should not be used as a substitute for a varied diet. Balanced nutrition and a healthy lifestyle are important for the proper functioning of the body.
---
Responsible entity for food information:
Grinday B. Ryłko J. Grabski Sp. j.
Wapienna 2, 43-340 Kozy
---